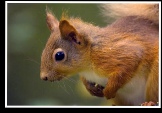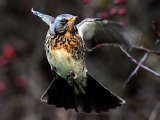 Nuthatch (Sitta europaea)
This small acrobatic bird is usually seen in woodland areas (except pine trees) descending head first almost like a small rodent. It nests in holes in trees and plasters the entrance with mud to prevent other species from entering. It eats insects seeds and nuts and can often be seen on garden bird feeders. The 6 - 8 eggs hatch after 14 days.
Although common getting good close photographs often takes tame and the use of a seed feeders. In the photographs you see here we researched an area to see that the nuthatch was present we then used our own hide and placed a nut feeder in the tree. We waited until the nuthatch arrived; these photographs were taken over several days.